THE D'OYLY CARTE OPERA COMPANY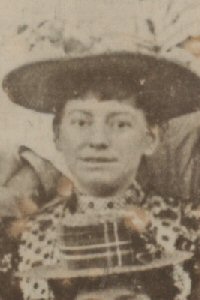 Alice Weathersby
Alice Weathersby (1882-83, 1889-91 1894-1903)
[Born Newcastle-on-Tyne]
Alice Weathersby was known as Alice Gresham when she first appeared in a D'Oyly Carte production:in the dual roles of Jacinta and the Fifth Lieutenant in Planquette's Rip Van Winkle at New York's Standard Theatre in October-November 1882. She soon moved to Philadelphia, where she played Fleta with D'Oyly Carte's Second American Iolanthe Company at the Lyceum Theatre for six weeks beginning December 5, 1882. From March to October 1883 she toured the British Isles as the Lady Ella in Patience with Mr. D'Oyly Carte's No. 1 "Patience" Company. She subsequently married D'Oyly Carte stage manager Richard Weathersby, leaving the stage for a spell in the mid-1880s for maternity reasons.
After a gap of five years, her name next appears in February 1889, when, still as Alice Gresham (but now a contralto chorister and understudy), she filled in for Kate Talby as Dame Carruthers in The Yeomen of the Guard on tour with D'Oyly Carte Opera Company "B." In March 1890 she assumed the part of Inez in The Gondoliers with D'Oyly Carte Opera Company "E." Later that year she deputized as the Duchess of Plaza-Toro on several occasions. She played Inez until April 1891, that month filling in again as the Duchess, as well as as Katisha in The Mikado.
There followed another break in service, during which she made at least one appearance in a non-D'Oyly Carte production--as an extra in the pantomime Dick Whittington at London's Olympic Theatre, December 1892-March 1893. She returned to the D'Oyly Carte organization eventually, serving in the Company "B" chorus in 1894, and subsequently playing the leading contralto roles of Little Buttercup in H.M.S. Pinafore (July-August 1895 and January-February 1896), Katisha in The Mikado (July-September and November 1895 and January-November 1896), Inez de Roxas in The Chieftain (July-August 1895), the Duchess in The Gondoliers (September and November 1895), and Widow Merton in The Vicar of Bray (January-April 1896). She may also have been in the chorus for Carte's American Utopia Limited production, March-June 1894. She was there with her husband and two children. (She took Alice Weathersby as her stage name for the first time in August or September 1895.)
Mrs. Weathersby then went on D'Oyly Carte's December 1896-June 1897 tour of South Africa, where she played Inez in Gondoliers. She joined D'Oyly Carte Opera Company "C" following her return, remaining with that troupe until around April 1903. Alice Weathersby was the Company's regular Inez for the duration of her stay, and she also took Mrs. Partlett for a few years (June 1898-December 1900) when The Sorcerer was part of the repertoire. As understudy to the principal contralto, she also filled in on occasion as the Lady Jane in Patience (1898-1900), the Queen of the Fairies in Iolanthe (1898, 1900-01), Lady Sophy in Utopia Limited (1898), Katisha (1899, 1901, 1903), Dame Carruthers (1899, 1901), the Duchess (1899-1901), Buttercup (1900), and, perhaps, "Dancing Sunbeam" in The Rose of Persia (1901).
The Weatherby's older daughter Emie appeared in the D'Oyly Carte chorus in 1904.
---
W Index | "Who Was Who" Homepage
---