THE D'OYLY CARTE OPERA COMPANY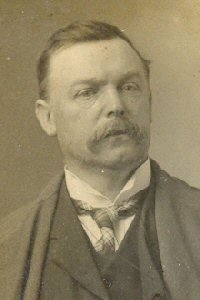 Richard Weathersby
Richard Weathersby (1882, 1883-84)
[Born Clerkenwell, London 1861]
Richard Weathersby took his first role in a D'Oyly Carte production as Major Murgatroyd in Patience on tour with Mr. D'Oyly Carte's No. 1 "Patience" Company in December 1882. When the Company resumed touring in March 1883, Weathersby was no longer in the cast:he was the Company's stage manager.
In December 1883 Weathersby may have joined Carte's newly-formed "Pinafore" and "Pirates" Company as stage manager. In January 1884 he took over the comic baritone roles of Sir Joseph Porter in H.M.S. Pinafore and Major General Stanley in The Pirates of Penzance, but the tour ended in early February and the Company was disbanded. That month, he then transferred to Mr. D'Oyly Carte's "E" ("Iolanthe" No. 2) Company, where he toured as the Lord Chancellor in Iolanthe until July 1884. It was his last role with the D'Oyly Carte organization, but he would continue as stage manager (and sometimes stage director) with various touring companies for the better part of the next twenty years.
He retired as stage manager and stage director of the D'Oyly Carte Principal Repertory Opera Company in June 1904. Richard Weathersby married D'Oyly Carte singer Alice Gresham in the early 1890s. She appeared in later years as Alice Weathersby. Their older daughter Emie appeared in the D'Oyly Carte chorus in 1904.
---
W Index | "Who Was Who" Homepage
---