THE D'OYLY CARTE OPERA COMPANY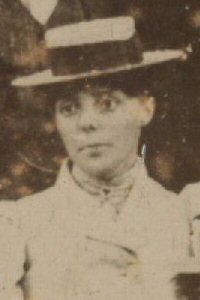 Lily Webb
Lily Webb (1887-88, 1894-97, 1902-03)
Lily Webb was known as Lilian Webb when she toured Germany, Austria, and Holland with with a D'Oyly Carte Company that played Patience and The Mikado from April 1887 to February 1888. She occasionally filled in for Geraldine St. Maur as Peep-Bo in The Mikado.
Later, as a contralto chorister and understudy, she toured with the D'Oyly Carte organization at various times in the 1890s and early 1900s. Her first contralto role was with D'Oyly Carte Opera Company "C" as Little Buttercup in H.M.S. Pinafore in March 1894 and again in February 1896. That year she also played Ruth in The Pirates of Penzance and Dame Carruthers in The Yeomen of the Guard on occasion. She played the small part of Giulia in The Gondoliers on a Carte December 1896-June 1897 visit to South Africa, and for a time with Company "B" upon its return. She then transferred to D'Oyly Carte Opera Company "C," where she deputized as Katisha in The Mikado and Inez in The Gondoliers during the second half of 1897.
Her last roles were Mrs. Partlett in The Sorcerer, Inez in The Gondoliers, and "Song-of-Nightingale" in The Rose of Persia on the Company's April 1902-May 1903 return to South Africa.
Whether she is the same lady as Lillie Webb, who toured with Mr. D'Oyly Carte's "C" Company in the mid-1880s is uncertain. She was married to D'Oyly Carte baritone Frank Holt.
---
W Index | "Who Was Who" Homepage
---