THE D'OYLY CARTE OPERA COMPANY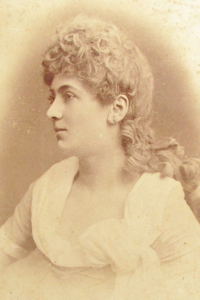 Mary Webb
Mary Webb (1881-84)
Mary Webb reportedly began her stage career as a chorister with a D'Oyly Carte touring company in 1881, though it's unclear which. She took her first named part in November 1882 when she deputized as Isabel in The Pirates of Penzance with Mr. D'Oyly Carte's No. 1 "Pirates" Company, and is said to have played Edith at some point as well. In December 1882, she appeared as Fleta with Carte's No. 2 "Iolanthe" Company in the first provincial production of the fairy opera. She switched to Celia or Leila in October 1883, serving in that role until February 1884 when she left the Company. Miss Webb also understudied Phyllis with "Iolanthe" No. 2, and may have gone on in the role on occasion.
She left the stage for nearly two years to study, reappearing at London's Comedy Theatre in November 1885 as Nanine in the comic opera Erminie. Later in the run she moved up to Clementine. She then took two roles in The Lady of Leoville at the same theatre (May-June 1886), went on tour as Javotte in Erminie, and in February 1887 began touring as Phyllis in Cellier & Stephenson's Dorothy with H. J. Leslie's Company.
Two decades later, a Mary Webb, possibly the same lady, gave three single matinee performances in London:as the Chorus Leader in Swinburne's Atalanta in Calydon (Scala, June 11, 1906), as Georges Sand in A Pageant of Famous Women (Scala, November 12, 1909), and as Lady Montague in Romeo and Juliet (St. James's, March 8, 1910).
---
W Index | "Who Was Who" Homepage
---