THE D'OYLY CARTE OPERA COMPANY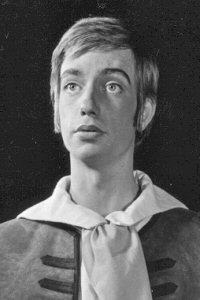 John Webley as Strephon in Iolanthe
John Webley (1966-71)
[Born Portsmouth 1946, died London 24 Sep 1971]
John Webley joined the D'Oyly Carte Opera Company chorus at age nineteen in August 1966, and appeared almost immediately in the film version of The Mikado. During the 1966-67 season he took the small part of Second Citizen in The Yeomen of the Guard and filled in on occasion as Bob Beckett in H.M.S. Pinafore. In November 1967, he assumed Alan Styler's role of Mr. Cox in Cox and Box. During the 1967-68 season he also filled in on occasion as the Foreman of the Jury in Trial by Jury, Samuel in The Pirates of Penzance, and Guron in Princess Ida.
In 1968-69 Webley appeared regularly as Cox, Samuel, Guron, and either the First or Second Citizen in Yeomen. He also substituted in many baritone roles that year, filling in from time to time as the Counsel for the Plaintiff in Trial, Captain Corcoran in H.M.S. Pinafore, Archibald Grosvenor in Patience, Strephon in Iolanthe, Pish-Tush in The Mikado, the Lieutenant of the Tower in Yeomen, and both Giuseppe and Luiz in The Gondoliers.
Webley's regular duties expanded in September 1969 to include Pish-Tush, and in May 1970 he took on Luiz when Philip Potter left the Company. Webley retained Cox, Samuel, Guron, and First Citizen as well, and filled in briefly for Thomas Lawlor as Giuseppe.
Sadly, the 1970-71 season would be John Webley's last. He began the year in September 1970 by adding the role of Strephon in Iolanthe to his growing repertoire. He had been diagnosed with cancer, however, and was forced to leave the Company in early 1971 for treatment. He returned in March and took up his parts (Cox, Counsel, Samuel, Strephon, Guron, and Pish-Tush) as well as Captain Corcoran and Giuseppe from Thomas Lawlor who left that month. He also filled in for an indisposed Kenneth Sandford as Grosvenor on one occasion. But it soon became obvious that his cancer had spread. He bravely carried on to the end of the season at Royal Festival Hall in August 1971. It was with great sadness, but not surprise, that the Company learned a month later that their colleague had succumbed at the age of twenty-four.
---
W Index | "Who Was Who" Homepage
---