THE D'OYLY CARTE OPERA COMPANY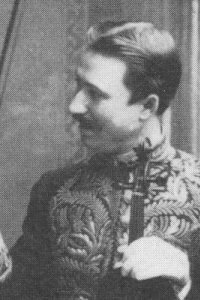 Van Rensselaer Wheeler as Mr. Goldbury in Utopia Limited
Van Rensselaer Wheeler (1893-94)
[Born New York City c.1869, died New York City 15 Feb 1919]
Van Rensselaer Wheeler spent thirty of his fifty years as a comic opera actor and concert singer. He made his New York Stage debut in an "entertainment" at the Manhattan Athletic Club in April 1892. He shortly traveled to Great Britain where he toured for one year with D'Oyly Carte Opera Company "D" (December 1893 to December 1894), appearing as Mr. Goldbury in Utopia Limited and, from November 1894, as Tommy Merton in The Vicar of Bray.
Wheeler then returned to America where he appeared often in New York and elsewhere in such musical works as The Geisha (Daly's, September 1896-April 1897), The Jolly Musketeer (Broadway and on tour, November 1898-July 1899), Dolly Varden (Herald Square, January-May 1902), A Chinese Honeymoon (Casino, June 1902-April 1903), Lady Teazle (Casino, December 1904-February 1905), and Edward German's Tom Jones, in which he played the title character (Astor, November 1907-January 1908).
Van Rensselaer Wheeler was an active member of the Lambs Club in New York. His death at age 50 was reportedly due to "acute indigestion."
---
W Index | "Who Was Who" Homepage
---