THE D'OYLY CARTE OPERA COMPANY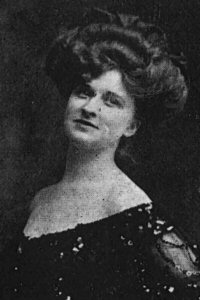 Poppie Wilkinson
Poppie Wilkinson (1899-1903)
[Born c.1884]
At the tender age of six, Poppie Wilkinson visited South America in the company of her parents with Edwin Cleary's English Comic Opera Company. Her stage debut may have been made in Buenas Aires, Argentina, as Tom Tucker, the midshipmite in H.M.S. Pinafore in September 1890.
Miss Wilkinson took her first D'Oyly Carte role--Nance in Haddon Hall with D'Oyly Carte Opera Company "D" between July and September 1889. She then transferred to D'Oyly Carte Opera Company "E," where she was Nance again in October and November. When Company "E" took up The Rose of Persia in February 1900, she was "Sigh-of-the-Sea" and also identified as a danseuse. She played "Sigh-of-the-Sea" through June 1901, then took up Nora when The Emerald Isle when that opera was launched July 1.
She toured as Nora until April or May 1902, then transferred to the Savoy where she was a dancer in Merrie England (through January 1903, including a tour) and A Princess of Kensington (January-May 1903).
Her parents, comic baritone John Wilkinson and mezzo-soprano Laura Elliston, also appeared with the D'Oyly Carte.
---
W Index | "Who Was Who" Homepage
---