THE D'OYLY CARTE OPERA COMPANY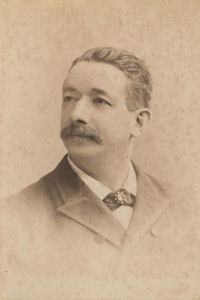 Jesse Williams
Jesse Williams (m.d., 1890)
[Born England, died Amityville, Long Island, New York 26 Sep 1917]
Jesse Williams was a composer, conductor, and stage manager who first appeared in America in the early 1880s with the Christie Minstrels. He was conductor for many years for Rudolph Aronson's Company at the Casino Theatre, New York, and on tour.
Willams's only engagement with the D'Oyly Carte Opera Company came at New York's Palmer's Theatre where he succeeded P. W. Halton as musical director for The Gondoliers from March 3, 1890 until the opera closed on April 19 of that year. Earlier, Williams had been musical director for the Carte-authorized production of The Yeomen of the Guard at the Casino Theatre (October 1888-January 1889).
His compositions included the musical comedy The Dime Novel (Bijou Theatre, New York, 1883) and the comic opera Carmita (produced on tour in England, 1901). He was musical director for a "light comedy" called An Angel Unawares at London's Terry's Theatre in September 1905.
---
W Index | "Who Was Who" Homepage
---