THE D'OYLY CARTE OPERA COMPANY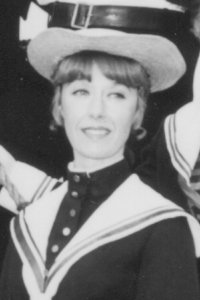 Marjorie Williams in H.M.S. Pinafore
Marjorie Williams (1969-75)
[Born Charlesworth, Derbyshire]
Marjorie Williams studied at the Royal Manchester School of Music before joining the D'Oyly Carte Opera Company chorus in September 1969. During the 1971-72 season she took her first named part, filling in for Linda Anne Hutchison as the Plaintiff in Trial by Jury. In October 1972 she assumed the Plaintiff as her own, while substituting on occasion in 1972-73 as Mabel in The Pirates of Penzance and Phyllis in Iolanthe.
In July 1973 she added Fiametta in The Gondoliers to her regular duties, and assumed the role of Celia in Iolanthe in January 1974. During the 1973-74 season she also filled in as Mabel, Phyllis, Zorah in Ruddigore, and Gianetta in The Gondoliers. She may be heard as Celia in the Company's 1974 recording of Iolanthe.
Miss Williams began the 1974-75 season as the Plaintiff, Celia, Fiametta, and (a new role) Ruth in Ruddigore. When Princess Ida was revived in December 1974 she added Chloe to her repertoire, and during the 1975 Centenary season she appeared as Melene in Utopia Limited, and Olga in the concert performance of The Grand Duke.
She left the Company in August 1975. Her 1972 marriage to D'Oyly Carte tenor Colin Wright ended in divorce.
---
W Index | "Who Was Who" Homepage
---