THE D'OYLY CARTE OPERA COMPANY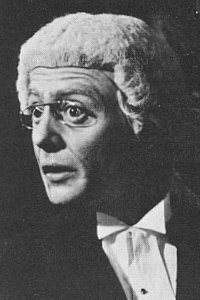 Howard Williamson as the Learned Judge in Trial by Jury
Howard Williamson (1965-73)
[Born Manchester 8 Jun 1943, died Stockport Aug 1989]
Howard Williamson studied singing at the Marchesi Singing Academy and drama at the London Academy of Music and Dramatic Arts. He joined the D'Oyly Carte Opera Company chorus in July 1965, and during the two seasons spanning 1965-67 appeared as the Associate in Trial by Jury, and went on on occasion for Alfred Oldridge as Major Murgatroyd in Patience (1965-66) and Antonio in The Gondoliers (1966-67). He also appeared in the chorus of the 1966 film version of The Mikado.
When Oldridge left the Company at the end of the 1966-67 season, Williamson moved up--taking over his parts as the Learned Judge in Trial, Major Murgatroyd, Second Citizen in The Yeomen of the Guard (for one season only), and the dual roles of Antonio and Annibale in The Gondoliers. He also was at that point John Reed's understudy in the principal comic baritone roles and during the 1967-68 season went on for Reed from time to time as Major General Stanley in The Pirates of Penzance, the Lord Chancellor in Iolanthe, and Ko-Ko in The Mikado.
During the 1968-69 season Williamson assumed the role of General Stanley from Reed. In his remaining time with the Company Williamson appeared regularly as the Judge, General Stanley, the Major, Antonio/Annibale, and (beginning in September 1970) First Citizen in Yeomen. He would also fill in now and then for Reed in nearly all of his leading roles:John Wellington Wells in The Sorcerer (1971-72), Sir Joseph Porter in H.M.S. Pinafore (1969-71, 1972-73), Reginald Bunthorne in Patience (1969-70), the Lord Chancellor (1968-70), Ko-Ko (1968-73), Robin Oakapple in Ruddigore (1969-71), Jack Point in Yeomen (1968-71, 1972-73), and the Duke of Plaza-Toro in Gondoliers (1970-71, 1972-73).
Williamson left the D'Oyly Carte Opera Company in January 1973. He was the brother of D'Oyly Carte chorister Doreen Williamson.
---
W Index | "Who Was Who" Homepage
---