THE D'OYLY CARTE OPERA COMPANY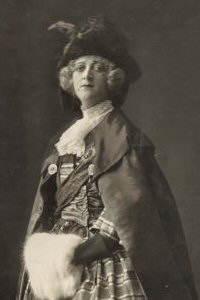 Winifred Williamson as the Duchess of Plaza-Toro in The Gondoliers
Winifred Williamson (1919-26)
[Born 1888]
Contralto Winifred Williamson auditioned with the D'Oyly Carte Opera Company in 1912, but didn't join the Carte organization until seven years later. On February 16, 1917, she made her first of two appearances in a London theatre program as an extra in a single matinee performance of the play La Trahison Supreme at the Aldwych Theatre.
She joined the D'Oyly Carte Repertory Opera Company in May 1919. During the 1919-20 season she shared the parts of the Lady Saphir in Patience, Leila in Iolanthe, and Giulia in The Gondoliers with several other artists, and went on on occasion for Bertha Lewis as Katisha in The Mikado and Dame Carruthers in The Yeomen of the Guard.
She remained in the Repertory Company chorus until January 1922 when she joined the D'Oyly Carte "New" Opera Company as principal contralto, replacing Maura Canning. Over the next four years, she appeared in leading parts in each of the full-length operas played by the "New" Company:Ruth in The Pirates of Penzance (1922-23), Queen of the Fairies in Iolanthe (1922, 1923-24, 1925-26), Dame Carruthers (1922-23, 1924-25), the Duchess of Plaza-Toro in The Gondoliers (1922-24), Katisha (1922-26), Little Buttercup in H.M.S. Pinafore (1923-25), Dame Hannah in Ruddigore (1924-26), and the Lady Jane in Patience (1925-26).
In January 1926 she left the D'Oyly Carte organization, and with several of her colleagues set sail for Australia. There she toured with the J. C. Williamson organization between 1926 and 1928 as Buttercup, Ruth, Jane, Queen of the Fairies, Lady Blanche in Princess Ida, Katisha, Dame Hannah (in the Australian premiere of Ruddigore), Dame Carruthers, and the Duchess.
She eventually returned to England, where she made her second and last appearance on the London Stage as Pauline in The Duchess of Dantzic (Daly's, April-May 1932).
---
W Index | "Who Was Who" Homepage
---