THE D'OYLY CARTE OPERA COMPANY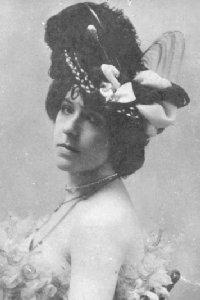 Ethel Wilson
Ethel Wilson (1894-98)
[Born London 1869, died 24 Oct 1941]
Ethel Wilson appeared at the Court Theatre in the musical extravaganza A Pantomime Rehearsal (January-February 1893) before joining the D'Oyly Carte Opera Company at the Savoy.
Between December 1894 and July 1898 she took small parts in the first productions of The Chieftain (Nina, December 1894-March 1895), The Grand Duke (Elsa, March-July 1896), and The Beauty Stone (May-July 1898). She was in the Savoy chorus for all intervening works for which such details are available. She was also in the crowd in court for a Nellie Farren Testimonial benefit performance of Trial by Jury at Drury Lane in March 1898. Miss Wilson married D'Oyly Carte tenor Cory James in September 1896.
Ethel Wilson later appeared at the Adelphi as Betti Berncastler in a brief twelve-show revival of the musical comedy The Girls of Gottenberg in August 1908.
---
W Index | "Who Was Who" Homepage
---