THE D'OYLY CARTE OPERA COMPANY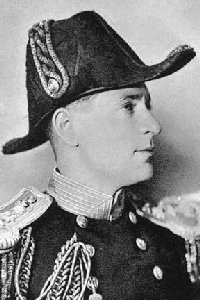 Robert Wilson as Ralph Rackstraw in H.M.S. Pinafore
Robert Wilson (1931-37)
[Born Cambuslang, Scotland, 2 Jan 1907, died Ayr, Scotland 25 Sep 1964]
Tenor Robert Wilson studied singing in Glasgow and sang for several seasons with the Rothesay Entertainers in Scotland. He also sang at most of the Scottish Festivals and at Clan concerts before joining the D'Oyly Carte Opera Company chorus in April 1931.
In the 1931-32 season Wilson substituted on occasion as the Defendant in Trial by Jury and Ralph Rackstraw in H.M.S. Pinafore, taking over the Defendant on a regular basis in March 1932. He was then promoted and during the three seasons spanning 1932-35 appeared regularly as the Defendant, First Yeoman in The Yeomen of the Guard, and Francesco in The Gondoliers, while also filling in from time to time as Ralph (1933-35), Hilarion in Princess Ida, Nanki-Poo in The Mikado, Leonard Meryll in Yeomen, and Marco in The Gondoliers (all 1934-35).
For the 1935-36 season Wilson played the Defendant, and shared Ralph (with John Dean), Frederic (with Dean), Nanki-Poo (with Dean and Charles Goulding), and Leonard Meryll (with Dean). He also filled in on occasion for Goulding as Colonel Fairfax in Yeomen and Marco in The Gondoliers.
Derek Oldham returned to the D'Oyly Carte for the next season, however, and Wilson's roles were cut back to the Defendant, Leonard Meryll, and Francesco. He left the D'Oyly Carte in July 1937 and the next year became a concert singer. For a number of years he headed his own concert party singing Scottish ballads on tour throughout the British Isles. He was also a radio performer and made many recordings, first for Parlophone (1932-33), and later for HMV (beginning in 1943), though none from his Gilbert & Sullivan repertoire. Wilson became one of Scotland's biggest variety stars, and his recordings of such national songs as "A Gordon for Me" and "Down in the Glen" were big sellers. He toured throughout the world until his untimely death in 1964.
---
W Index | "Who Was Who" Homepage
---