THE D'OYLY CARTE OPERA COMPANY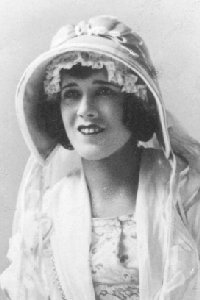 Gertrude Wolfle as Edith in The Pirates pf Penzance
Gertrude Wolfle (1923-27)
[Born c.1901]
Gertrude Wolfle joined the D'Oyly Carte Repertory Opera Company chorus in October 1923, taking her first named part in June 1924 when she filled in for principal mezzo-soprano Eileen Sharp as Pitti-Sing in The Mikado. Between August 1924 and April 1925 she appeared as the Lady Saphir in Patience, Ruth in Ruddigore, and Vittoria in The Gondoliers, while also filling in on occasion for Miss Sharp as Melissa in Princess Ida and Pitti-Sing.
In April 1925 she transferred to the D'Oyly Carte "New" Opera Company where she took over principal mezzo roles (Hebe in H.M.S. Pinafore, Pitti-Sing, Mad Margaret in Ruddigore, and Phoebe Meryll in The Yeomen of the Guard) from an ailing Margaret Philo.
Miss Wolfle returned to the Repertory Company, where, from July to October 1925 she was the regular Kate in The Pirates of Penzance, Leila in Iolanthe, Melissa, Pitti-Sing, Margaret, and Vittoria in The Gondoliers. She also filled in from time to time as Phoebe in Yeomen. But in October 1925 (after Aileen Davies was chosen as principal), Miss Wolfle was reduced to Kate in Pirates, Leila, Peep-Bo The Mikado, Ruth in Ruddigore, and Vittoria.
She rejoined the "New" Company in December 1925, replacing Miss Philo as principal mezzo. Her roles until the end of the season were Lady Angela in Patience, Iolanthe in Iolanthe, Pitti-Sing in The Mikado, and Mad Margaret in Ruddigore. When The Pirates of Penzance and The Gondoliers replaced Iolanthe and The Mikado in the repertoire in July 1926 Miss Wolfle took on Edith and Tessa in the new operas.
The "New" Company disbanded in June 1927, and Gertrude Wolfle was reported in The Gilbert & Sullivan Journal to have "entered into an 'engagement' of a more romantic and lasting nature." However, she later appeared at London's Apollo and Playhouse Theatres in The Rose and the Ring (November 1928-February 1929), and at the Lyric (May-July 1930) and on tour as Lili in Lilac Time.
---
W Index | "Who Was Who" Homepage
---