THE D'OYLY CARTE OPERA COMPANY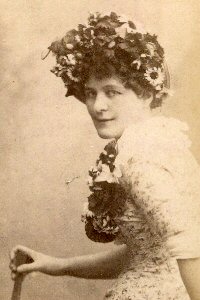 Josephine Woodward as Patience in Patience
Josephine Woodward (1880-84)
Josephine Woodward was a chorister, understudy, and small part player with several D'Oyly Carte touring companies from March 1880 to February 1884. She began her career with Mr. D'Oyly Carte's "D" Company ("E" Company from March 1881 forward), taking the part of Maud Dalglish in the curtain raiser Six and Six (December 1880-October 1881), and filling in briefly as Mabel in The Pirates of Penzance (July 1881). She subsequently transferred to Mr. D'Oyly Carte's No. 1 "Patience" Company where she filled in for Ethel Pierson in the title role in September 1882 and was a stopgap Patience again in March 1883, following Laura Clement's departure. In October of that year she took over the small role of Lady Ella.
In December 1883 Miss Woodward transferred to the newly-formed Mr. D'Oyly Carte's "Pinafore" and "Pirates" Company as Hebe and Edith. She left the Carte organization in February 1884 when the "Pinafore" and "Pirates" Company was disbanded.
We then lose track of her for over twenty years, until December 27, 1905, when she appeared for 22 performances at London's St. James's Theatre as Margaret Howe in Beside the Bonnie Brier Bush.
---
W Index | "Who Was Who" Homepage
---