THE D'OYLY CARTE OPERA COMPANY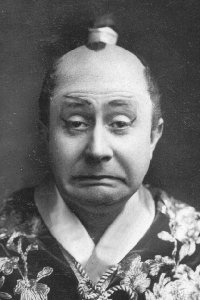 C. Herbert Workman as Ko-Ko in The Mikado
C. Herbert Workman (1894-1909)
[Born Bootle, Lancashire 5 May 1873, died at sea off Hong Kong 1 May 1923]
Charles Herbert Workman studied singing under his brother, Alfred E. Workman, in Liverpool. He made his stage debut in November 1894 as Calynx in Utopia Limited with D'Oyly Carte Opera Company "E" on tour in Stratford-on-Avon. He assumed the role of Calynx full-time from December 1894-March 1895, and while with Company "E" also appeared as Pedrillo in The Chieftain (February-August 1895), and Mr. Bunthorne's Solicitor in Patience (May-November 1895).
In November 1895 he was called to the Savoy where he made his London debut as Pennyfather in After All!, the curtain raiser for The Mikado. He then created the small part of Ben Hashbaz in The Grand Duke (March-July 1896). When The Mikado and After All! were brought back in July, Workman again took up Pennyfather. He later created the part of Adam in His Majesty (February-April 1897), appearing briefly as King Ferdinand V when George Grossmith abandoned the part. Workman was Simon in Old Sarah, companion piece for the first revival of The Yeomen of the Guard (May-November 1897) and early in the run of The Grand Duchess of Gerolstein, in which he also played Carl.
Workman then left the Savoy in December 1897 and began his career as D'Oyly Carte principal comedian, appearing until March 1898 with D'Oyly Carte Opera Company "B" as the Lord Chancellor in Iolanthe, Ko-Ko in The Mikado, and Jack Point in The Yeomen of the Guard.
In June 1898 he joined D'Oyly Carte Opera Company "C." He traveled with Company "C" (later known as "The D'Oyly Carte Principal Repertory Opera Company") until November 1906, appearing as John Wellington Wells in The Sorcerer, Sir Joseph Porter in H.M.S. Pinafore, Major General Stanley in The Pirates of Penzance, Reginald Bunthorne in Patience, the Lord Chancellor, King Gama in Princess Ida, Ko-Ko, Jack Point, the Duke of Plaza-Toro in The Gondoliers, and Scaphio whenever their operas were performed. He also appeared as Hassan in The Rose of Persia (January-September 1901) and as the Learned Judge in Trial by Jury beginning in November 1904.
Workman was then called to the Savoy for the First London Repertory Season (December 1906-August 1907), again in the comic baritone roles:Jack Point, the Duke in Gondoliers, Bunthorne, and the Lord Chancellor. After another tour with the Repertory Company in nine of his accustomed roles (September 1907-April 1908), he returned to the Savoy for the Second London Repertory Season (April 1908-March 1909) as Ko-Ko, Sir Joseph, the Lord Chancellor, General Stanley, the Duke, and Jack Point.
Workman then left the D'Oyly Carte organization and became an actor-manager. He leased the Savoy and produced Eden & Somerville's The Mountaineers (September-November 1909), appearing as Pierre; Gilbert & German's Fallen Fairies (December 1909-January 1910), appearing as Lutin; Two Merry Monarchs (March-April 1910), appearing as Rolandyl; and Orpheus (April-May 1910).
Fallen Fairies was less than successful and led to a major blow-up between Workman and Gilbert. Workman's syndicate of backers had not wanted Nancy McIntosh, Gilbert's protegee as Selene. At the end of the first week Workman replaced Miss McIntosh with her understudy, Amy Evans. Gilbert was furious and forbade Workman from appearing in any of his works again.
Gilbert could keep Workman from performing Gilbert & Sullivan on the stage, at least in England, but not in the recording studio. Workman recorded over a dozen songs from his G&S repertoire for Odeon in 1910, and several more in 1912. Many of these have been preserved by Pearl on LP and CD ("The Art of the Savoyard," Pearl GEMM CD 9991).
After leaving the Savoy, Workman had several more successes on the London Stage, most notably in The Chocolate Soldier (Lyric, 1910-11) and The Girl in the Taxi (Lyric, 1912-13). In 1914 he traveled to Australia where he once again appeared in Gilbert & Sullivan operas (1918), and as Ali Baba in Chu-Chin-Chow (1920-21).
In 1922-23, Workman was on a Gilbert & Sullivan tour of India and the Far East with his wife, Bessel Adams, herself a former D'Oyly Carte singer. Amazingly, neither of them made it back to Australia. Miss Adams died in February 1923 in Calcutta; Workman died at sea in May 1923 shortly before the steamer carrying the Company from Japan arrived in Hong Kong. He was just 49.
---
W Index | "Who Was Who" Homepage
---