THE D'OYLY CARTE OPERA COMPANY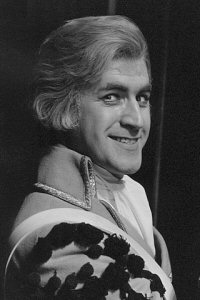 Colin Wright as Luiz in The Gondoliers
Colin Wright (1969-75)
[Born Scunthorpe, Lincolnshire]
Tenor Colin Wright trained as a pianist at the Royal Academy of Music and studied singing with Welsh National Opera "training school." He gained professional experience with the Black and White Minstrels and "Opera for All" before joining the D'Oyly Carte Opera Company chorus in March 1969.
Between September 1969 and May 1970 he filled in on occasion for principal tenors Philip Potter and Ralph Mason as Frederic in The Pirates of Penzance, the Duke of Dunstable in Patience, and Nanki-Poo in The Mikado. When Potter left the D'Oyly Carte in May 1970 Wright assumed his roles as Frederic, Nanki-Poo, Colonel Fairfax in The Yeomen of the Guard, and Luiz in The Gondoliers. He would play these four parts for the remainder of his D'Oyly Carte career, also appearing for portions of it as the Defendant in Trial by Jury (September 1970-June 1973 and March-April 1975) and Prince Hilarion in Princess Ida (December 1974-March 1975). During the 1975 Centenary season he appeared as Sir Bailey Barre in Utopia Limited, and Ernest Dummkopf in the concert performance of The Grand Duke. He left the D'Oyly Carte in August 1975.
Colin Wright recorded three of his roles with the Company:Nanki-Poo (1973), the Defendant (1975), and Sir Bailey Barre (1975). His 1972 marriage to D'Oyly Carte soprano Marjorie Williams ended in divorce.
---
W Index | "Who Was Who" Homepage
---