THE D'OYLY CARTE OPERA COMPANY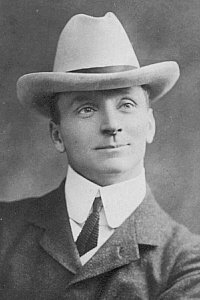 Fred Wright Jr.
Fred Wright Jr. (1899)
[Born Dover, Kent 8 Mar 1871, died New York City 12 Dec 1928]
A member of a distinguished English theatrical family, Fred Wright Jr. made his first appearance on stage at the Marylebone Theatre as a babe in arms. He spent virtually his entire life on the stage, appearing in operetta, musical comedy, revue, and pantomime in Great Britain, France, Germany, and America.
His only engagement with the D'Oyly Carte Opera Company came when he was hired in March 1899 to replace Sydney Paxton as Sirocco in The Lucky Star at the Savoy. The work was failing when Wright was brought in and did little better with him than with Paxton, closing on May 31, 1899.
Several of Wright's successes were at the Gaiety Theatre, London, where he appeared in The Runaway Girl, The Messenger Boy, The Toreador, and The Orchid. Other hits included The Queen of the Brilliants (Lyceum, 1894), An Artist's Model (Daly's, 1895), The Geisha (Daly's, 1906), and The Pink Lady (in New York, 1911, and at the Globe, 1912).
His only experience in Gilbert & Sullivan came late in life in America, when he appeared as Ko-Ko in The Mikado, the Lord Chancellor in Iolanthe, and Major General Stanley in The Pirates of Penzance with the Winthrop Ames Company at New York's Plymouth Theatre and elsewhere in 1927. He died in New York about a year later.
---
W Index | "Who Was Who" Homepage
---