If Gilbert and Sullivan Opera was, like Moses, cradled in the Reeds, then Richard D'Oyly Carte played the part of Pharaoh's daughter. Then, to stretch the metaphor beyond its breaking point, his wife and later his son and granddaughter dwelt at Mount Savoy and wrote on tables of stone the laws and tokens by which Gilbert and Sullivan Opera might be viewed.
Richard D'Oyly Carte was born on 3 May 1844. He had musical aspirations, but quickly perceived that his talents were entrepreneurial rather than artistic. He became a concert and lecture agent, keeping many interests alive, including that of theatrical management. In 1875, needing a short musical 'afterpiece' for the Royalty Theatre which he was managing, he commissioned Gilbert and Sullivan. This was an act of conspicuous perspicacity which could be described as business genius. The result was Trial by Jury.
The piece was a resounding success. Carte was shrewd enough to see that a Gilbert and Sullivan collaboration would be very rewarding both artistically and financially. To raise the capital required he formed a company called The Comedy Opera Company (Limited), of necessity in partnership with others. Gilbert and Sullivan were not partners in this venture; rather they were commissioned to provide a new and original work for the company to produce and were remunerated on a royalty basis. Carte obtained the lease of the Opera Comique, a small airless theatre off The Strand in the area now known as Aldwych. The Theatre and its neighbour The Globe, had been built hurriedly in 1870 in the hope that the site would be redeveloped and lucrative compensation paid: they were together known as 'The Rickety Twins'.
Carte was the driving force which made the Gilbert and Sullivan collaboration possible. He sublet the theatre to the Comedy Opera Company and oversaw the agreements whereby the author and composer were to have sole artistic direction of the piece they were to write. His agency provided many of the artists to perform in The Sorcerer, which opened on 17 November 1877.
Let not Richard D'Oyly Carte's talents be underestimated. Not only did he have vision, but was a diplomat of no mean order. W. S. Gilbert was a person of complex character, with decided views and the highest standards of business integrity. He displayed 'zero tolerance' of deviation from those standards and views. Creative people are often 'difficult'. Arthur Sullivan also needing managing, but in quite a different way. He was temperamentally adverse to confrontation; he liked to be liked and would often promise rather than deliver. Procrastinatory rather than direct, he also had qualms about the artistic integrity of composing for the theatre and was anguished by suggestions from 'serious' music critics that he was prostituting his gifts. To bring and keep together two such disparate characters required skill and patience and perseverance. The success of The Sorcerer showed Carte, Gilbert and Sullivan that there was a future in English comic opera. H.M.S. Pinafore was composed and produced, but ran into difficulties. Carte's partners in the Comedy Opera Company first attempted to reduce the advance payment to Gilbert and Sullivan, and when business began to fall off advocated cutting the losses and taking the piece off. Business then picked up. Carte, however, persuaded author and composer that a business partnership between themselves and himself would be profitable. He used the enforced closure of the Opéra Comique for repairs to invoke a contract clause reverting the rights of Pinafore and Sorcerer to Gilbert and Sullivan, who entrusted them to him. Thus from August 1879 D'Oyly Carte, by virtue of partnership (in London) and performing rights agreements (elsewhere) became the sole producer of the works of Gilbert and Sullivan in the United Kingdom. He also held the right to authorise amateur productions, for which a fee was payable. From him also the band parts were exclusively available.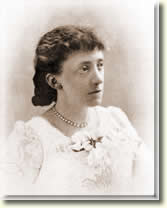 Richard D'Oyly Carte married Blanche Prowse in 1871 and had two sons, Lucas and Rupert. Blanche died in 1885. Three years later he married Helen Lenoir (real name Helen Couper Black) whom he had originally employed as a secretary in 1877. A remarkable man had wed an even more remarkable woman. Given the age, an exceptional woman. Helen D'Oyly Carte immersed herself in all the business affairs of her husband and, while working as an equal, came to surpass him in her grasp of detail, organisational ability, diplomacy and acumen.
The continuing success of the Gilbert and Sullivan opera led Carte to greater investment, and to diversification. His concert/lecture agency continued and he bought property further East along the Strand with conspicuous frontage onto the Thames Embankment, recently made safe from flooding by Sir Joseph Bazalgette. On this site he built the Savoy Theatre, which he let to the Gilbert-Sullivan-D'Oyly Carte partnership, and the Savoy Hotel. This became one of the great luxury hotels of the world and would come to generate more income and contribute more to the D'Oyly Carte fortunes than any other enterprise, including the opera companies.
The Savoy Theatre became completely associated with Gilbert and Sullivan Opera. All the works, whether originally produced there or not, were known as "The Savoy Operas", and even W. S. Gilbert used the term 'Savoyard' to describe himself and others who had worked there. The relationships within the partnership, however, began to deteriorate. and a series of disagreements, culminating in the wellknown Carpet Quarrel led to its dissolution. Sullivan and Carte continued in partnership and the Savoy was used for works other than those by G&S. During this period Helen Carte managed to retain the respect of Gilbert, showing indeed the quality of this remarkable woman; that Gilbert consented to write again for the Savoy (albeit on different terms and not a member of the partnership) is due in no small measure to her.
The sureness of touch hitherto displayed by D'Oyly Carte seemed to leave him over the matter of the Royal English Opera. This huge theatre was built in 1891 by Carte to house British grand opera on a site at the junction of Charing Cross Road and Shaftesbury Avenue. Sullivan's Ivanhoe opened the house. Gilbert thought the scheme illconceived, thinking that it was not a fashionable site. He was proved correct. Ivanhoe, as an opera, was successful. As an investment it failed, the production costs were too high. Carte sold; not until well after the first world war did the theatre house a success. Currently Les Miserables has been running there for years.
Throughout the later 1890s Richard D'Oyly Carte declined in health, and Mrs Carte took more and more of the responsibilities for the Opera Company upon herself. She managed the touring companies which since 1879 had been sent out by Carte to perform in the provinces. When Richard died in April 1901, Helen assumed took over control of all the D'Oyly Carte enterprises. Carte's eldest son, Lucas, had qualified as a barrister, seems not to have taken an interest in the family businesses and died from tuberculosis in 1907.
The years between 1901 and 1906 saw a decline in the fortunes of the Opera Company. Two of the original partners, Sullivan and Carte, were dead. Gilbert had removed himself from the partnership, and his creative powers were in decline. The companies touring the provinces declined until there was but one weaving its way about the country visiting often quite small centres of population. When the company visited South Africa in 1905, more than half a year elapsed with no professional productions of G&S in the British Isles.
During this period it is to be surmised that Mrs Carte and Richard's second son, Rupert, focused their attention of the hotel side of the family interests. They let the theatre to other managements. In late 1906 Mrs Carte renegotiated the performing rights from Gilbert (she already had Sullivan's) and staged a repertory season at the Savoy, again being able to lease the Savoy to herself. Gilbert directed, and once again Helen Boulter (she had remarried) had to exercise the greatest tact, Gilbert having conveniently forgotten that he was no longer an equal partner and taking no financial risk.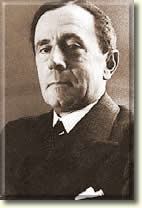 Helen died in May 1913, and Rupert assumed control of all the family concerns and took direct interest in the Opera Company. He had been chairman of the Savoy Hotel since 1903 and would remain so for the rest of his life. Born in 1876 he had been to school at Winchester,
where he was a considerable dandy. P. G. Wodehouse quotes him as replying to a master's enquiry, "Sir, I grow thinha and thinha". Carte made sufficient impression upon Wodehouse for the latter to base his character Psmith upon him. He went up to Magdalen College, Oxford [that's the one pronounced 'Maudlin'] and married, in 1907, Lady Dorothy Milner GathorneHardy, who, as the daughter of an earl, could retain her title after marriage, thus becoming Lady Dorothy D'Oyly Carte, her husband remaining just 'Mr'. Two children were born of the union, Bridget, later to be Dame Bridget, and Michael, who was killed in a car crash in 1932. The marriage was dissolved in 1941. During the first world war Rupert was engaged in some sort of secret work, his daughter noting that he was a King's Messenger whose functions are to do with diplomatic bags. He appears to have held a naval rank as some stage, and, with his connections in the international hotel business, may have had a number of contacts useful to the British government.
Despite this, he was a man of drive and energy who commissioned fresh stage designs and costumes for a number of the operas. This work was continued by his daughter when Rupert died in 1948.
Bridget D'Oyly Carte, like her father, retained iron control of, not only the opera company and the way it performed, but also of all amateur performances, insisting that they be staged and directed along 'traditional' lines. Thus from 1897 to 1962 Britain saw only D'Oyly Carte approved productions performed in a D'Oyly Carte manner.
In 1962 the copyright in the operas expired and the D'Oyly Carte family lost its British monopoly. Bridget D'Oyly Carte made over her rights in the Company, together with the ownership of the band parts, to The D'Oyly Carte Opera Trust, which, regrettably in a
fairly highhanded way, continued to administer the touring troupe. At the time there was some ambivalence as to the altruism of Dame Bridget in making over what would soon become a loss making company.
From the end of the 1960s the Opera Company began a gradual period of decline and, failing to obtain state funding, made its final performance on 27 February 1982. In 1985 Dame Bridget died, thus ending the proud D'Oyly Carte line, but leaving more than one million pounds to contribute towards the funding of a new D'Oyly Carte Opera Company. That company's future is, as this is written, in grave doubt.
---
Page modified 5 December, 2009 Copyright © 2003-9 The Gilbert and Sullivan Archive All Rights Reserved.