Design for Giuseppe's costume by Charles Ricketts, 1929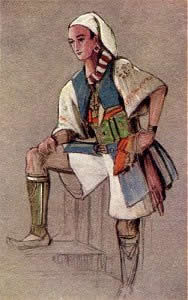 The Gondoliers
, or,
The King of Barataria
, was the twelfth opera written together by Gilbert and Sullivan. Opening on December 7, 1889 at the Savoy Theatre,
The Gondoliers
ran for 554 performances, and was the last of the G&S operas that would achieve wide popularity. Its lilting score has, perhaps, the most sparkling and tuneful music of them all and calls, perhaps, for the most dancing.
Gilbert returns, in this opera, to satire of snobbery regarding class distinctions and begins his fascination, which will play an even larger part in the next opera, Utopia Limited, with the "stock company act" using the absurd convergence of natural persons and legal entities. Again setting his work comfortably far away from mother England, Gilbert is emboldened to level somewhat harsh criticism on the noble class, and the institution of the monarchy itself.
Two just-married Venetian gondoliers are informed by the Grand Inquisitor that one of them has just become the King of "Barataria", but only their foster mother, presently at large, knows which one. As Barataria needs a king to put down unrest in the country, they travel there to reign jointly, leaving their wives behind in Venice until the old lady can be interviewed. It turns out that the king was wed in infancy to the beautiful daughter of the Spanish Duke of Plaza Toro, and so it seems he is an unintentional bigamist. Of course, the beautiful daughter is in love with a common servant! When the young Spaniard and the two Venetian wives all show up wanting to know which of them is queen, complications arise. No worries: The true identity of the king is revealed, and all is combed out spectacularly well by the end.