From The Graphic (London, England), Saturday, May 7, 1881; Issue 597.
Our Illustrations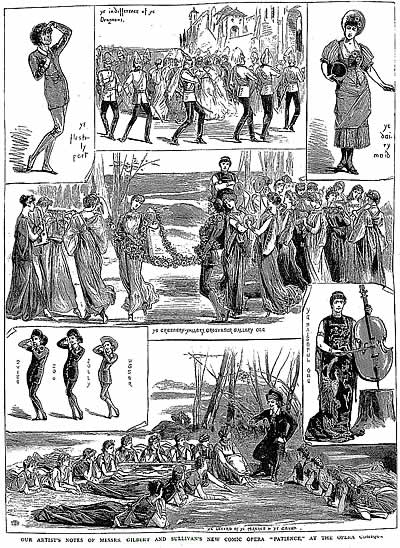 PATIENCE (Leonora Braham), "ye dairy maide," who has never loved, and knows not that æsthetic transfiguration so easily mistaken for indigestion, to the lament of twenty lovesick maidens, who in their transcendentality of delirium have no thought for their old loves, the 35th Dragoons, "fleshly men of full habit" — the "residuum" of all that is good and beautiful. For Bunthorne — "ye fleshly poet" (Mr. George Grossmith) — has come over them, they have been idealised, and idolise him. He loves them not, but Patience; all else is hollow. To her he discloses that he is an æsthetic sham, not as bilious as he looks, but for her would cut his hair. She, untaught in the matter of love, save that for her great aunt, rejects him. He is broken-hearted and desolate, —
Oh, to be wafted away
From this black Aceldama of sorrow,
Where the dust of an earthy to-day
Is the earth of a dusty to-morrow.
Leaves her in dilemma: firstly, What is this love that upsets everybody; and secondly, How is it to be distinguished from insanity? The Lady Angela (Miss Jessie Bond) enlightens the poor blind child; love is of all passions the most essential, the embodiment of purity, the abstraction of refinement, the idealisation of utter unselfishness. Horror-struck that this ennobling passion has not descended upon her, she determines not to go to bed until over head and ears in love with somebody. Remembers a very early affection, —
He was a little boy!
Ah, old, old tale of Cupid's touch!
I thought as much – I thought as much!
He was a little boy!
Pray don't misconstrue what I say –
Remember, pray – remember, pray,
He was a little boy!
No doubt, yet spite of all your pains,
The interesting fact remains –
He was a little boy!
The child love returns in the person of Archibald Grosvenor, "The All-right" (Mr. Rutland Barrington), altered, indeed, in fifteen years, but, as he owns, "very beautiful," yet completely miserable, for 'tis his hideous destiny to be madly loved by every woman who sets eyes on him. Thus love is revealed to her — 'tis Archibald. They will never part! They swear it! But horror! he is perfection, endless ecstasy to all who know him, to love him would be selfishness itself. Farewell! But happy thought, —
Though to marry you would very selfish be –
Hey, but I'm doleful – willow willow waly!
You may, all the same, continue loving me –
Hey, but I'm doleful – willow willow waly!
Bunthone, heart-broken at Patience's barbarity, by the advice of his solicitor puts himself up to be raffled for. Is led to the sacrifice crowned and enwreathed in flowers. The Dragoons are wrath, but 'tis vain — they therefore show their indifference by a walk round — for,
There's fish in the sea, no doubt of it,
As good as ever came out of it.
The rapturous maidens purchase tickets, and are about to draw for the prize, when Patience offers herself as his bride, for, —
A maiden who
Devotes herself to loving you [Bunthorne]
Is prompted by no selfish view!
Exactly so!
Thereupon the rapturous ones file off with the Dragoons, when Grosvenor the Æsthetic, the Idyllic, the Infallible, arrives, and all fly to him.
"Ye faithful one," Lady Jane (Miss Alice Barnett), deplores (with the aid of a bass-viol) the fickleness of those who have deserted Bunthorne for Grosvenor; though "alone faithful to him will reap her reward. But do not dally too long, Reginald, for I am ripe, Reginald, and already I am decaying. Better secure me ere I am gone too far!" The fickle crew now never leave Grosvenor. He expostulates, 'tis Saturday, and they have followed him ever since Monday. He would like the usual half-holiday, if they would allow him to close early. Their love is hopeless; remember the legend of the Magnet and the Churn: —
While this magnetic,
Peripatetic
Lover he lived to learn,
By no endeavour
Can Magnet ever
Attract a silver Churn!
They leave him, and he is joined by Patience, anxious to know that he still loves her, but, as she is a good and pure woman, if he approaches her she will scream! Bunthorne, the deserted one, and the faithful Jane, who sticks to him like a shadow (a very substantial one), devise a plan to reduce the glory of the "sunny-faced idiot," Grosvenor. In the mean time the Dragoons, as a forlorn hope, discard their primary red and yellow, and go in for Early English, find it conducive to cramp; but are declared by Lady Saphir (charmingly acted by Miss Julia Gwynne) "though quite too all but," "indeed jolly utter," they may hope.
The Fleshly and Idyllic meet, and the Idyllic Grosvenor, under threat of a nephew's curse, succumbs, and consents to become
A commonplace young man,
A matter-of-fact young man,
A steady and stolid-y, jolly Bank-holiday,
Every-day young man!
and Bunthorne, in triumph, —
A most intense young man
A pallid and thin young man —
A haggard and lank young man,
A greenery-yallery, Grosvenor Gallery,
Foot-in-the-grave young man!
In his joy he will reform, his æstheticism shall be pastoral, Patience will henceforth love not as a duty, but a pleasure — a rapture — an ecstasy. Oh horror! this would be selfish — they must part! — 'tis too bad!
Archibald, discarding aestheticism, is followed by his adorers, for the "All-right" cannot do wrong.
Prettily pattering, cheerily chattering,
Every-day young girls.
Patience is shocked, but joy! she may now love the commonplace young man — and Bunthorne is crushed again! Jane would console him, but is claimed by the Duke; the rapturous maidens, now every-day young girls, return to the Dragoons, —
Greatly pleased with one another,
To get married we decide;
Each of us will wed the other,
Nobody be Bunthorne's Bride!
---
Page modified 19 February, 2012. Copyright © 2012 The Gilbert and Sullivan Archive All Rights Reserved.