Princess Ida, or Castle Adamant, was produced at the Savoy Theatre on 5 January 1884, but for some reason it never attained the success of the other operas. Yet when it was revived at the Princes Theatre on 24 January 1922, after a lapse of thirty-eight years, it was received throughout with the thunderous applause it so richly deserves, for it is full of true Gilbertian humour, and contains also some of Sullivan's most delightful music.
Hilarion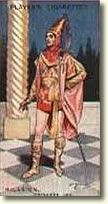 It is perhaps the least known of the operas now regularly performed, but not necessarily therefore the least interesting, and is the only one of the series written in three acts.
Act I opens with a scene in the pavilion of King Hildebrand's palace where he and his son Hilarion are eagerly awaiting the arrival of King Gama and his beautiful daughter Ida, to whom Hilarion had been betrothed at the early age of one.
But King Gama, a small, twisted and ungainly monarch, famed for his biting sarcasm, arrives with his three warrior sons but without the Princess, who refuses to leave Castle Adamant, where she rules a woman's University, in order to surrender herself to Hilarion as his wife.
King Hildebrand
King Hildebrand is highly annoyed at Ida's offhand behaviour and orders his son to set off at once and claim the Princess as his bride; meantime he arrests his four royal visitors and threatens to hang King Gama "most politely" should anything happen to Hilarion whilst on his mission to the Princess.
King Gama and his sons are chained and held as hostages while Prince Hilarion and his two friends, Cyril and Florian, set forth to engage Ida, not by force, but by love — "We'll storm their bowers with scented showers of fairest flowers..."
Florian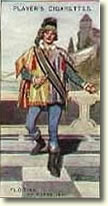 Act II is set in the gardens of Castle Adamant where Princess Ida has assembled around her a number of highly born young women who, like herself, have sworn to have nothing whatever to do with Man. "Man", as Lady Psyche (Professor of Humanities) puts it, "will swear and Man will storm — Man is not at all good form" — in fact "Man's a ribald — Man's a rake, Man is Nature's sole mistake!"
Princess Ida
In due course Hilarion, Cyril and Florian arrive and clamber over the castle wall and, finding some Academic robes, dress themselves up as three lady undergraduates. The two trios they sing, "Gently, gently, evidently we are safe so far", and "I am a maiden, cold and stately", followed by the Quintette, "The woman of the wisest wit", and what might be described as Cyril's drinking song, "Would you know the kind of maid", are delightful in the extreme; in fact practically all the songs in Act II are so exceedingly tuneful that it is difficult to understand why the original production ran for only nine months, for in the Finale there is what is possibly the most beautiful, serious, poem that Gilbert ever wrote — sung by Hilarion to the Princess:
"Whom thou hast chained must wear his chain,
Thou canst not set himfree,
He wrestles with his bonds in vain
Who lives by loving thee!
If heart of stone for heart of fire,
Be all thou hast to give,
If dead to me my heart's desire
Why should I wish to live? . . ."
When Hilarion and his friends meet the Princess she fails to penetrate their disguise and invites them to join her ranks, provided they will undertake never to marry a man and will give the fulness of their love to the hundred maids within her castle walls, rules to which they willingly subscribe.
Melissa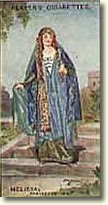 But their secret is soon discovered by Lady Psyche, who turns out to be Florian's sister. However, she promises to help them, as also does Melissa — daughter of Lady Blanche (Professor of Abstract Science) — who never having set eyes on men before thinks they are infinitely more beautiful than women.
Lady Blanche
On the contrary her mother, who dearly wishes to supplant the Princess and rule in her stead, knowing a man when she sees one realizes that the three new students are certainly not young ladies, but on hearing from Melissa that one of them is Prince Hilarion himself, come to claim his bride, she, too, decides to aid his plan as, with the Princess married and out of the way she, the scorned Lady Blanche would then inevitably become head of the University.
During the luncheon which follows, Cyril gets tipsy and sings his famous"drinking song", "Oh, kiss me, kiss me", to which reference has already been made. It is then only too obvious to the Princess that the three new students are men in disguise and, rising hurriedly, she orders the girls to flee while she herself, running on to the bridge, loses her balance and falls into the stream. Lady Psyche calls upon Hilarion to save Ida. He does so, but in her anger she nevertheless has the three young men arrested and sentences them to death.
Princess Ida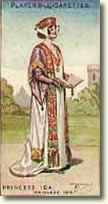 As they are marched off King Hildebrand and his men enter, with Ida's three warrior brothers still handcuffed. The King demands the instant release of Hilarion and his friends and points out that if she refuses he will hang her brothers and storm and level her halls "in the twinkling of an eye". But despite the pleadings of her girls the Princess refuses to yield.
In Act III the ladies are busy arming themselves to resist the foe though, in reality, they admit they are distinctly frightened, and when the Princess asks if they are ready to fight Man on his own ground and beat him there she discovers that, when put to the test, her women fail her in practically every contingency.
King Gama
King Gama enters with a message for Ida from King Hildebrand saying that he is loth to war with women, and when her father, who loves to grumble at everything, explains to her that he is tortured by being given the choicest wines, the costliest robes, the richest rooms so that he has nothing whatever to grumble at, the Princess, realizing how her poor father must have suffered, yields, to everyone's intense relief, and so the opera ends with Hilarion and Princess Ida reunited, while Cyril and Florian take the Ladies Psyche and Melissa as their intended brides.
Arac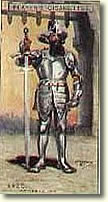 Princess Ida was a new version of Tennyson's poem "The Princess" which Gilbert had already put into dramatic form fourteen years before at the Olympic Theatre. The same names are used in the opera as in the poem and, except for the alteration of the word "this" for "the", the last four lines of the opera, before the final chorus, are taken word for word from the last canto of Tennyson's poem.
The opera was a satire on the Women's Rights Movement, which was one of the most disturbing and absorbing questions at the time. It was in this opera that Sir Henry Lytton (1867-1936) first made his appearance as a Savoyard, thanks to his young wife, Miss Louise Henri, who was then engaged for the chorus that was to go on tour. They were both extremely young; in fact Sir Henry, without permission, took a few days off from school in order to get married. Although this led to a painful interview with the Headmaster on his return, it led also to the commencement of a long and brilliant career with The Gilbert and Sullivan Company.
The night before the production of Princess Ida Sullivan was taken seriously ill and despite an injection of morphia the violent pain remained unabated. The next day he lay inert and helpless but he was determined to conduct the performance nevertheless, and the following account taken from his diary for Saturday, 5 January 1884, gives an example of his remarkable will power, a case of mind overcoming matter despite tremendous odds.
"Resolved to conduct the first performance of the new opera Princess Ida at night, but from the state I was in it seemed hopeless. At 7 p.m. had another strong hypodermic injection to case the pain, and a strong cup of black coffee to keep me awake. Managed to get up and dress, and drove to the theatre more dead than alive-went into the orchestra at 8.10. Tremendous house — usual reception. Very fine performance — not a hitch. Brilliant success. After the performance I turned very faint and could not stand".
In many ways the Fates were very kind to Sullivan, showering upon him their gifts, yet at other times they treated him cruelly, for the first night of Princess Ida, like that of Iolanthe, was a night of unforgetable torment for him. Moreover he suffered a great deal from kidney stones and although he underwent an operation for their removal he was never really free from pain for any length of time.
On summing up the opera on its first night the critic of the "Times" remarked that it had "the great merit of putting everyone in a good temper"; and surely nothing could express the truth about Gilbert and Sullivan better than that.