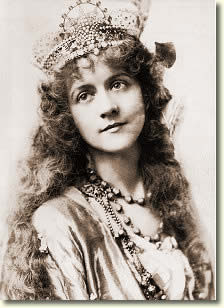 Behind the bare facts of The Rose of Persia's original cast list and early changes thereto, lies an intriguing story that has taken 107 years to fully emerge. In 1899 Ruth Vincent was the established leading lady at The Savoy, having successively played Laine in The Beauty Stone, Aline in the second revival of The Sorcerer, Princess Laoula in The Lucky Star, and Josephine in the second revival of H.M.S .Pinafore. However, when the American coloratura soprano Ellen Beach Yaw was cast as The Sultan Zubeydeh, a.k.a. "Rose-in-Bloom" in The Rose of Persia, Ruth Vincent was given the second soprano role, "Scent-of-Lilies". This "demotion" proved to be too much for her to bear, and she walked out of the production a week before the opening night ("silly girl" wrote Sullivan in his diary), and was replaced by Jessie Rose. Isabel Jay originally played "Blush-of-Morning", the third soprano role, but when Ellen Beach Yaw left the production, after thirteen days, Isabel Jay took over the lead role of the Sultana.
Reminiscences by five famous surviving Savoyards were published in The Strand Magazine of December 1925, and those of Isabel Jay made reference to the early blossoming of her stage career: "Of course my ambition was to play leading parts at the Savoy, and my chance came in The Rose of Persia. Miss Ruth Vincent had been leading soprano, but for this opera Sir Arthur Sullivan suddenly expressed a desire that a certain Australian [sic] singer should take the leading part. After a few days, however, the newcomer was seized with an illness which obliged her to retire, and I was asked to assume the role". The true circumstances of Ellen Beach Yaw's replacement in the role of the Sultana by Isabel Jay, as graphically revealed (below) in Sullivan's diaries, were quite different from Isabel Jay's explanation, but her supposed illness was a fiction that Miss Yaw endorsed to the end of her life.
It was for long unclear whether:
Miss Jay had conceivably remained unaware of the facts,
her memory had failed her 26 years later, as it had regarding Miss Yaw's nationality, or the most likely —
she was merely being tactful in not mentioning Miss Yaw by name in her reminiscences, and by repeating the incorrect explanation for Miss Yaw's departure provided by the Savoy management for the general public in 1899.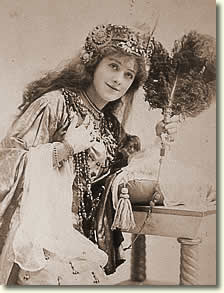 Any uncertainty has now been removed, with the recent discovery of Isabel Jay's true account of the casting dramas, as related to her elder daughter Cecilia. The Hon. Cecilia Mitchell Anderson lived to be 94, surviving her mother by 70 years. She became President of the Sussex Branch of the Gilbert and Sullivan Society, and for many years gave "Theatre Talks" to Women's Institutes and other such groups. One talk concerned the productions in which her mother had starred, and Cecilia's talk notes show that Isabel Jay knew but tactfully didn't include the real reason for Beach Yaw's departure, when writing for the Strand Magazine in 1925. The notes also provide hitherto unknown details concerning the casting of the soprano roles, and reveal that Isabel Jay officially understudied Beach Yaw, and appeared as the Sultana at a matinée performance prior to taking over the role. The notes read as follows:
"Then Sir Arthur Sullivan wrote another opera called The Rose of Persia, with a very high soprano role for the lead, the Sultana, which he had written for an American singer, Ellen Beach Yaw, who had a freak voice ranging up to top "Z"!!! [It has been claimed as the highest E on the piano]. The second role was given to Ruth Vincent (to whom it was explained that she would, of course, take over the lead in the next production), and the third role was given to Mother. All went well until a few days before the opening, when Ruth Vincent walked out of the theatre, saying she was not going to play "second fiddle" to anyone!! My Mother went to see Mrs. Carte, and begged her to let her play Miss Vincent's high part, which, being a quick study, she already knew. Mrs. Carte said "No", as that would mean changing all the parts around, but asked Mother to understudy the leading role of the Sultana. Well, the opera opened, and Miss Beach Yaw was not a success. She was so thin that she had to have ropes of jewels draped round her arms, and to help her voice, used to eat a grape in the wings, and spit it out before going on to sing! Mother was asked to play the Saturday matinée, "as Miss Beach Yaw found it too exhausting to play two shows". And the next Monday night, Mother took over the leading role and played it until the end of the run. Of course, Ruth Vincent would have taken over if she had stayed, but it was a lucky break for my Mother."
It was Sullivan who had been instrumental in introducing Ellen Beach Yaw to the Savoy Company. His diary entry for 27th June 1899 reads:
"Went to Savoy Theatre to see Mrs. Carte, took with me and gave her letter proposing to do Persian opera instead of The Miners, sine qua non!, that Miss Yaw be engaged as must have new blood. She promised to think it over and discuss with D'Oyly — let me know early next week, as they were going to Portsmouth next day to look for a yacht — I fear they won't accept because they didn't find Miss Yaw and they only act on their own initiative. I shall be in a very disagreeable position with Hood, which worries me. He is such a nice fellow and so pleasant to work with."
When The Rose of Persia opened on 29th November, Miss Yaw did play the lead role of the Sultana, but on 2nd December, Sullivan wrote of trouble concerning the casting:
"F. Cellier came, much perturbed about Miss Yaw and Mrs. Carte. I told him I was afraid the former would not improve, that she hadn't got it in her, but that there was no hurry. He urged me to do something at once, that the Cartes were in a great state about it, but that I must take the initiative. I don't quite see what it's all about — Miss Yaw is not keeping people out of the theatre as Cellier and the Cartes imply".
On 3rd December Sullivan reacted against his better judgement:
"Wrote to Mrs. Carte saying I think I have made a mistake in advising the engagement of Miss Yaw, that it is certainly not a success at present, and that I fear she hasn't got the stuff in her to improve. Also said that I hoped she wouldn't take Jay out of her present part and put her into Yaw's, because the latter part if the song is taken out is not so good or important as Jay's, and advised her to look out for another high soprano".
However, by 10th December, Sullivan had again changed his view:
"Having listened all week through the telephone to the opera, I find Miss Yaw improving rapidly every night. Last night she sang the song really superbly — brilliant. So I wrote again to Mrs. Carte saying that I thought if we let Miss Yaw go it would be another mistake, greater than we thought engaging her was. I told her how I had listened to her progress all the week, and how splendidly she sang last night, and that as we have got something that no other theatre has got, we had better keep it for a time".
Sullivan's account of the storm that broke on 11th December ends on the saddest of notes:
"Just as I was sending a letter to Mrs. Carte this morning (messenger was waiting to take it) Miss Yaw came and told me that she had been summarily dismissed, and told not to come to the theatre again — she was in a great state of grief and indignation — I sent off my letter to Mrs. Carte at once, with a few lines added — that my letter was probably too late to have any effect, but that I sent it all the same. I comforted Miss Yaw the best way I could, saying that I was sure Mrs. Carte meant it in the kindest spirit that she should leave suddenly like that, so that people should think she was really ill, and I did all I could to soothe her and defend Mrs. C., but all the same I think it very wrong and not right towards me either. Shortly afterwards I received a reply from Mrs. Carte, evidently very indignant with me, that I should have dared to change my mind about Miss Yaw, and saying that my letter was not one to be answered in a hurry etc. etc. I wrote a few lines back, saying that it required no further answer, as I saw my position (under the new financial arrangement) quite clearly. The whole thing is quite plain and evident. The Cartes disliked Miss Yaw's engagement from the beginning, as they do everything that isn't of their initiation — She didn't make any particular success the first two or three nights — then with a sort of "I told you so" feeling they got Cellier to urge me to take the step suggesting that her engagement should not he continued. This I somewhat unwillingly did, and to clinch the matter they got rid of her at once, and were very angry because I changed my opinion again and recommended her being retained. Well, I have now no voice in the management, and claim none, and so long as that unfortunate agreement which I signed unwittingly exists, I shall never consider myself anything more than a paid piecework composer".
Sullivan's diary entry for 21st December includes "Miss Jay to try over her music in the new opera", and two surviving letters from Sullivan to Isabel Jay, which are now in the possession of Isabel Jay's two granddaughters, shed interesting light on this occasion. On 14th December Sullivan wrote:
1, QUEEN'S MANSIONS,
VICTORIA STREET, S.W.

Thursday.

Dear Miss Jay,

You have learnt the Sultana's part I know — now would it help you to run through the music with me before you go on the stage with it? If so, come here tomorrow or any other day early next week you like and I will shew [the spelling then in vogue] you the few little alterations I have made.

Mind, my dear child, I really want to help you in the matter, to place you before the public to the greatest advantage, so if you think you can get on better alone, by all means do so — I shan't be offended. Only I know there are one or two little things that I can put you up to, which will be very useful to you, so don't be frightened!

Yours sincerely,

Arthur Sullivan.
Isabel Jay accepted the invitation, and on 20th December Sullivan wrote again, with typical concern regarding the arrangements:
Dear Miss Jay,

I am obliged to go out tomorrow afternoon but I hope to be home again by 5.30, or at least by 6. So, if I am not in when you come, will you please wait? I am assuming that a late hour will suit you best, as you can take me on your way to the theatre. Otherwise 2.30 will be equally convenient to me. But I don't think you ought to be trudging backwards and forwards between Putney and here in this weather, when you are working at night.

Yours sincerely,

Arthur Sullivan.
In her 1925 reminiscences Isabel Jay referred to this correspondence, and to the visit itself, and recounted an anecdote concerning her début as the Sultana:
"Naturally I felt my responsibility, but Sir Arthur was kindness itself. He sent me a little note saying that if I desired he would go through the music with me. I went to his flat in Victoria Street, and he spent the first few minutes in proudly showing me his book of reminiscences, which had just been published. [The book was "Sir Arthur Sullivan, Life Story, Letters and Reminiscences" by Arthur Lawrence, the corrected proofs of which Sullivan had returned to the publisher James Bowden on 1st September.] After he had given me various hints about the music, I told him that I was very nervous, and that I should be eternally indebted to him if he would kindly keep away from the theatre on my first night. "With the greatest of pleasure", he said, in his usual charming way. The next time I saw him he told me how well I had sung. "But you promised not to come to the theatre", I said. "Yes", he replied, "but you forget I have an electrophone in my house."
Isabel Jay received favourable notices as the Sultana Zubeydeh, and reigned as leading lady at the Savoy until shortly before her first marriage in April 1902. She later enjoyed outstanding success over seven and a half years on the musical comedy stage, taking the lead in eleven shows. Perhaps her greatest success was with the role of Sally in Miss Hook of Holland, which ran for 462 performances. For Ellen Beach Yaw the Rose of Persia affair was only a temporary setback, and she went on to sing for many of the crowned heads of Europe and for President McKinley. Overall she preferred the concert platform to the operatic stage, although she was the first American artiste to make a successful operatic début in Rome. After appearing as Lucia in Lucia di Lammermoor at the Metropolitan Opera House, New York, she was described by the manager as "the world's greatest coloratura soprano" — a far cry indeed from her sacking by the D'Oyly Cartes.
---
|

Page modified 15 July, 2007