IN 1891 we played "The Nautch Girl" at the Savoy, our first departure from Gilbert and Sullivan opera. It was quite successful, though no inferior vintage could really satisfy palates accustomed to the delightful blend of wit and melody which had flowed from the Two, who
United had sung
As one individual.
In this year my contract with Carte was for thirty-five pounds a week, rising to forty pounds under certain conditions, so you see I was getting on. That contract also contained an interesting clause, which showed that the bonds by which the Savoy held me were beginning to loosen, it entitled me to leave of absence for three months, with option of another three to follow. I took the first leave, then again Carte tightened his hold, and refused to let me have the second.
My three months' leave was spent, not in resting or in holiday-making, but in hard work. Barrington and I, both great favourites with the public (he speaks of me in his book as "My little comrade Jessie Bond, who was gifted with a personality which made her a universal favourite"), wished to try a provincial tour together, thinking that a change from years of steady theatre work might be not only pleasant but profitable.
Barrington had written three little playlets for two characters, which his friend Solomon set to pretty music; these were our répertoire; we took a pianist with us, and that was all the company. We had an amusing, but fairly hard time; we played in a different town every night; and, having no understudies, it was sometimes a good deal of a strain. I remember being ill once and going to the local doctor to be patched up. He said I was not fit to act, but I said I must, the seats were all taken and we were not going to return the money, so that I must go through with it, and I did.
It was a great success, that little tour, and my share of the profits was never less than seventy-five pounds a week, more than ever I got from Gilbert and Sullivan. But I returned to London and was caught again. Carte would not release me for another three months. I am sure they missed me at the theatre; they said I was a Mascot to them all, and when I went away with Barrington, though it was only for three months, I was given a silver-mounted scent bottle inscribed "With love from The Girls, Savoy Theatre," and the men of the chorus gave me a beautiful set of Shakespeare's works, with an inscription of which I am very proud:
"These volumes are presented to Miss Jessie Bond by a few Savoyards, in token of the esteem and affection held by all for her, and as a mark of regret at her leaving – even though for a short time – the boards on which she has achieved such success and won so many friends, January, 1892. (Signed) PARIS, LEON, LAIDLAW, RAMSEY, WILBRAHAM, MONTELLI, PHILLIPS, BARRETT , HASWELL, LETTS, BARNARD, and FRASER."
Both of these gifts are still among my treasures.
Following "The Nautch Girl," Carte revived "The Vicar of Bray" at the Savoy, an opera which had already been successful in another theatre. Sydney Grundy wrote the words, and Edward Solomon the music, but there was no part for me in it, as Grundy in the following note freely admits.
W

INTER

L

ODGE


A

DDISON

R

OAD

, W.
30/12/91.
D

EAR

M

ISS

B

OND

,
Between ourselves, you must abandon all thoughts of playing Nelly Bly. She is, I find, absolutely nothing, and as the piece is constructed, it is impossible to write her up. I am not exaggerating. She is simply a speaking chorister, with a song. I was hoping to be able to improve her, but I find I can't. Every speech I write for her reads so dragged in and superfluous that I destroy them as soon as they're written. I cannot even get a second song in at all naturally.

My experience of writing up parts is, that the part is seldom improved, and the piece is invariably injured. Audiences are very quick to detect interpolated matter.

This is, of course, my private tip to you. I am much disappointed, for I had rather you had a good part than anybody, but the production of "The Vicar" at the Savoy is not my doing at all. It was practically settled before I knew anything about it.

Sincerely yours,
S

YDNEY

G

RUNDY

.
"The Vicar of Bray" ran for six months, after which the Savoy was closed for three, the longest vacation in all its existence. At this time I was on tour with Barrington, and Gilbert at the Lyric had produced an opera written by himself and Alfred Cellier. It was charming, both words and music, and Gilbert in writing it had Barrington and me in his mind. He offered me the part of Columbine, but I refused. I really had no choice, I was bound to Carte by so many ties. He had given me my first chance, we had worked together for years, I did not feel then that I could leave him. Nevertheless refusal cut me to the heart, not only because I hated disappointing Gilbert, but because I loved the part he had written for me. All my life I have wanted to play a Columbine part; some of my earliest recollections are of picturing myself in short fluffy skirts, dancing about on the tips of my toes, with arms outspread, and little silver bells jingling. Barrington would have been an ideal Clown, Gilbert measured him correctly also, he knew us both inside out, and that we were made to play together. We understood each other to the last shred; the fractional lift of an eyebrow, the least inflection of the voice, was hint enough from one of us to the other. Gilbert, in a letter I shall quote later, speaks of Barrington without me as being like a flint without steel.
But "The Mountebanks" was produced without us, and was only a moderate success – I feel sure that we could have made it a great one. I reproduce the letter in which Gilbert asks me to join him and one written by Sir Arthur Sullivan when he heard of the offer.
G

RIM

'

S

D

YKE


H

ARROW

WEALD
7th Dec. 90
M

Y

D

EAR

J

ESSIE

,

Are you willing to entertain the question of an engagement to play an excellent part in the piece I am writing for the Lyric (with Cellier) to be produced next October?




It would give me great pleasure to know that you are open to an offer.

Yours always,
W. S. G

ILBERT

.
And this is Sullivan's letter:
1 Q

UEEN

'

S

M

ANSIONS


V

ICTORIA

S

TREET

, S.W.
Saturday
D

EAR

J

ESSIE

,
I am horrified to think that you are going to leave me in the lurch, and not sing in my next Savoy piece, which I hope to have ready towards the end of this year. Carte has told me all about the question of terms, time, etc., and I really think that his proposal is a very fair one and one that you might well accept. If for a few pounds a year more, you are going to throw over your old friends and associates (and associations) and join the Lyric Theatre, I shall feel peculiarly aggrieved and hurt, for reasons which I can explain to you personally but do not care to put on paper.


Do think over this, and be reasonable, if only for the sake of your old friend

A

RTHUR

S

ULLIVAN

.
At that time I was drawing forty pounds a week from the treasury, and my salary rose to forty-five pounds before I left, while outside the Savoy connection constant inducements were held out to me by other managers. Henry Arthur Jones, writing to me about this time, says: "When is comic opera going to restore you to comedy? It's a shameful robbery."
Meanwhile, Sullivan in conjunction with Sydney Grundy was writing "Haddon Hall," and now I come to the story of my own break with the Savoy. Since Gilbert left it, my kind and constant friend, it had not been the same place to me. He had written my parts for me, he had upheld my cause many times against Sullivan and Carte. Now Grundy – another G. – was writing with Sir Arthur, and Grundy was my good friend too, and wished me to have a part worthy of my powers.
This he gave me in his first version of "Haddon Hall," but when he submitted the manuscript to Sir Arthur, the latter said:
"Why, this is all Jessie Bond. You must leave out this, and this, and this," striking his blue pencil through all the best parts.
Grundy was very much annoyed, both on my account and on his own, but he did not hold the strong position with regard to Sullivan and the Savoy that Gilbert had held, and he was obliged to submit. The opera was finished accordingly, but when my abbreviated part was offered to me at the first reading I refused to take it.
"Sir Arthur," I said, "there is nothing in this part for me – nothing that a chorus girl at five pounds a week could not do quite well. It is not worthy of my position in the Company or of my reputation as an actress, and I refuse to accept it."
He was very angry, and my refusal was no doubt an embarrassment for the moment, but he would not depart from his position, nor would I depart from mine. This, then, was my reason for leaving the Savoy Opera Company in which I had played continuously for sixteen years, growing with its growth, sharing its triumphs and successes, and making its welfare a part of my very life. I went back to it afterwards for revivals, when Gilbert also had buried the hatchet and reunited himself to the Triumvirate, but the old associations had been broken and the old enthusiasms had evaporated. Nevertheless I am glad to remember that it was on the stage of the Savoy Theatre, surrounded by old friends and in one of the most brilliant of the Gilbert and Sullivan productions, that I made my last appearance as a professional actress.
Sullivan wrote me the following letter a few days before "Haddon Hall" was produced, and I give it without comment:
1 Q

UEEN

'

S

M

ANSIONS


V

ICTORIA

S

TREET

, S.W.
Friday , 16 Sept.
M

Y

DEAR

J

ESSIE

,

I write a line to ask you not to press your request to come to the first performance of my new opera on Saturday.




To see you there would in the first place add very much to my disappointment at not having you in the cast of my work, and secondly it would not be quite fair to the girl who is trying her best to fill the gap caused by your leaving. It would make her very nervous, and you are too kind-hearted to wish to do any harm to a young beginner.




If I could put you anywhere where you would not be seen it would be different – but I can't, and your presence would become known instantly and lead to sure and certain embarrassment.




Come on Tuesday night (Monday is such a dull and depressing night, as you know), and if you will let me know at once you shall have stalls or a box (if there is one).




Would you like to come to the Band rehearsals for the Leeds Festival the week after next at St. James's Hall?

Your affect. friend,
A

RTHUR

S

ULLIVAN

.
During the next few years I played in "His Excellency," "Ma Mie Rosette," "Go Bang" "Green Bushes," and "Wapping Old Stairs" in different theatres. I went back to the Savoy for revivals, and my last appearance on the stage was as Pitti Sing in "The Mikado." Here is the letter in which Gilbert expressed the pleasure it gave him to welcome me back to the fold.
G

RIM

'

S

D

YKE


H

ARROW

WEALD
25th Oct. 95
M

Y

D

EAR

J

ESSIE

,

I'm delighted to hear that you're to play in the Mikado – for you were the life and soul of the piece. Barrington without you is flint without steel (in that piece), as I told Carte three weeks since.




I don't know what to say about the new song. Even if we could find a place for it (very difficult), there is Sullivan to be reckoned with and I doubt very much if he would care to put aside the new piece upon which he is working night and day, in order to write a song for Mikado.




He is like me in one respect (only in one) – when he is in full swing of his work, as he is now, he won't stand interruption. However, I'll speak to him about it, for he's one of those who think that, in comic opera, one can't well have too much of you.

Yours always,
W. S. G

ILBERT

.
As Pitti Sing in The Mikado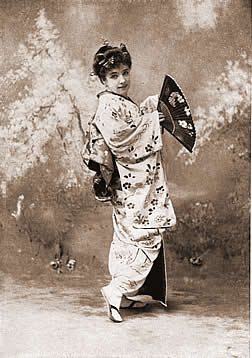 Some of the commendation so freely bestowed when they thought they were losing me would have sweetened my lot considerably in the early years of my stage life. I don't know why it was – perhaps they thought I was too cocky, too sure of myself and my own value to them – but I used to be left severely alone at rehearsals, and often wondered why no one took any trouble to coach me. Gilbert used patiently to teach the others, sometimes word by word – with Grossmith, for one, he took infinite pains – but never a word to me.
"Why do you never do anything to help me Mr. Gilbert?" I asked him once.
"Oh, you're all right, Jessie," he said impatiently, with a wave of his hand.
I suppose he thought my parts were easier and more natural to me as a woman than Grossmith's bizarre characterizations, but I often used to feel hurt by the way I was ignored at rehearsals. Even they, however, were not as bad as first nights. Then, the Three used to go round congratulating and patting everybody on the back – everybody except poor little me. It was
One for thou and one for thee
One for you and one for ye
But never, oh never, a one for me!
Often I have gone home and cried myself to sleep, thinking. "Why don't they ever praise me? I can't be as good as I thought I was." But generally the audience liked me so much that no doubt Gilbert and Sullivan and Carte thought more praise would be superfluous and go to my head, and that on the contrary I needed a little suppressing!
I must, however, mention one exception to the usual rule of leaving me to my own devices at rehearsals. We were studying "Iolanthe," and had hammered at it until the unearthly hour of four in the morning. They made me sing my song "He loves," standing up and sitting down and kneeling and with every possible variety of emphasis and shade of meaning, until I was perfectly exhausted.
"You're singing flat, Jessie," Sullivan snapped at me.
"Flat!" I said. "The wonder is that I can sing at all at this hour – and I'm not going to try again!"
---
Page modified 19 November, 2008
Copyright © 2008 The Gilbert and Sullivan Archive All Rights Reserved.